Looking for bathroom fitters near me? Look no further!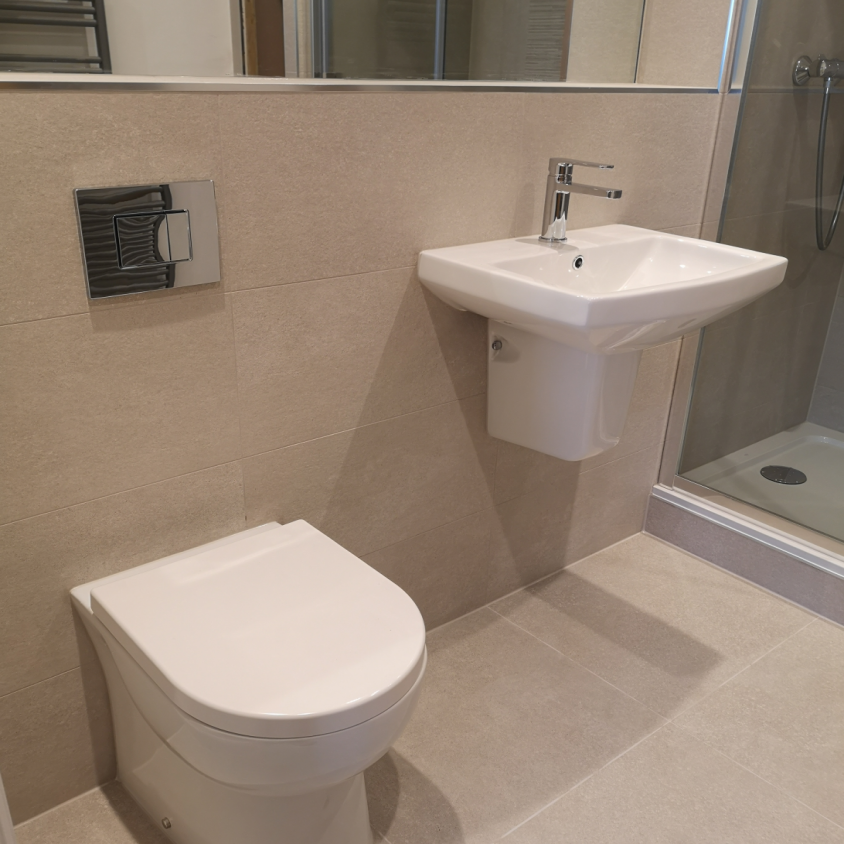 Let our experienced bathroom fitters carry out your new bathroom installation. From bathroom design and selecting the right bathroom suite, to installation and finishing touches, we will ensure your bathroom is unique, high quality and suited to your needs.
We can develop a bathroom, wet room or shower room from an empty shell to the finished article, including all the necessary plumbing, tiling, electrical and plastering. Every project is individually managed from start to finish, giving you a single point of contact and saving you the time and hassle of communicating with multiple trades. It is our commitment to offer first class service, quality workmanship and materials, combined with genuine advice and attention to detail.
We can supply and fit:
Toilet sanitaryware
Basins and taps
Showers and shower enclosures
Shower panels
Baths and spa baths
Vanity units
Bathroom furniture and cupboards
Heated towel rails
Tiling
Flooring
Wet rooms and Accessible rooms
Bathrooms of all styles
With over 15 years of bathroom fitting experience, we have installed bathrooms of all types from small toilet rooms to large luxury bathrooms. We treat every project with the same care and attention and take time to understand your requirements. Every bathroom installation is tailored to you with the right design, fixtures, and fittings to suit your design and budget needs.
Style and substance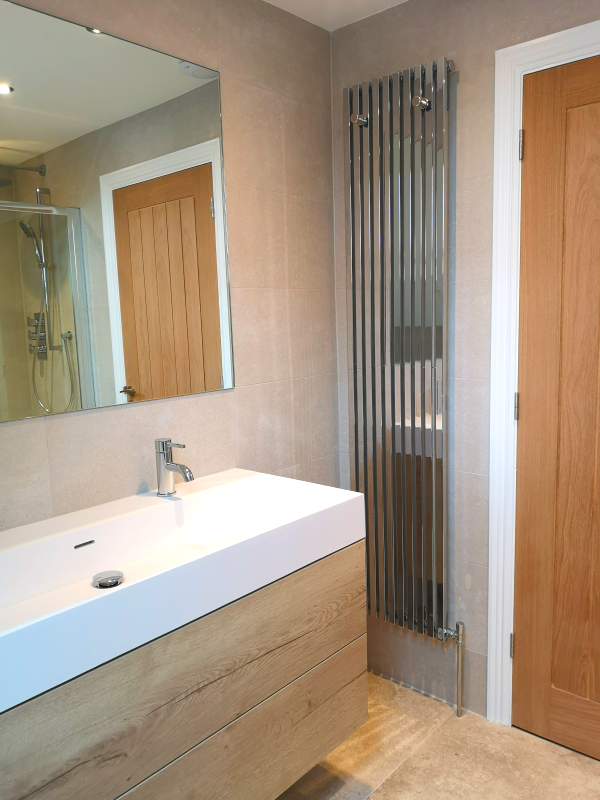 It is all very well having a bathroom that looks good, but you also need one that functions properly and will stand the test of time. We always aim to use the best quality materials and durable fittings to keep your bathroom in top condition for as long as possible.
The bathroom installation process
We try to make the bathroom installation process as simple as possible for our clients. First, we'll visit your property to carry out a survey and discuss your requirements, budget and design ideas. Once you have chosen your desired fixtures and fittings, we will provide you with a comprehensive, no-obligation quotation.
If you have any questions or changes to make, we will happily make these adjustments.
Landlord and Commercial Services
We don't just fit domestic bathrooms! We can supply and install bathrooms for property developers or into commercial businesses. If you are a landlord or business owner/manager, get in touch with us to discuss your requirements.
Trusted bathroom installers
We understand that you need a reliable and trusted bathroom installer and we're happy to share details of our excellent track record and past client projects. We stand by our workmanship and give a one-year guarantee to cover any unforeseen problems.
Service and customer satisfaction are key to everything that we do and being local means that we are competitively priced. We are based in Beccles and not only cover the surrounding areas, but also Suffolk and some parts of Norfolk.
If you would like to discuss your bathroom or request a quote, please contact us on 01502 719726 or via our contact form for more information.
FAQs
How long will my bathroom installation take?
For a full bathroom installation, including plastering, tiling, electrical and installing bathroom products, it takes on average 10 days. This will depend on the size of your room and any additional services. When we provide your quotation, we will also give an estimated timescale.
How long will I be without my bathroom? Can I still have access to the toilet?
Even if we remove your toilet, we will ensure that it is plumbed back in by the end of the day. We won't leave you without one! You may, however, be without full bathroom facilities until all work is completed, plus an additional 24 hours to allow everything to dry.
What hours do your installers work?
We will usually start around 8:30am and work until the day's work is completed. Timescales can vary each day, depending on the work that is being carried out. For example, we can't begin grouting if the tile adhesive is not dry. When this happens, our installers will carry out other work or use the time away to restock supplies as required.
Will you remove all rubbish and leave my home clean?
Of course! We collect and remove all old bathroom items and packaging, and our installers clean up after themselves every day. During removal and installation, dust is unavoidable, so you may wish to seal doors to other rooms to [prevent this.
What is I've not completely satisfied?
Our installers are there to help, so if you have any questions or concerns please don't hesitate to ask them. You can also contact your project manager if you have any additional concerns.
How long are the work and products guaranteed for?
Our installation work is guaranteed for 2 years. Each bathroom product has its own guarantee, and we will provide this information to you.
What if extra work is required during the installation?
Occasionally, we find additional work that is required during the installation, for example a previous leak that has caused damage which was not obvious during the quotation process.
If this happens, we will discuss the issue with you immediately, and agree how we proceed.